Forums
Welcome to the Kidzworld Forums!
Kidzworld is a fully moderated kid and teen social network. Please read the
rules and regulations
before you start posting!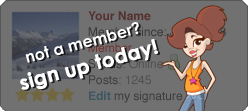 Current Events
Whats new in the world today! Post about the latest news and events of the world we live in.
New Features on KW
KW is always adding new and exciting features. Stop by here to see what is new.
Pets
Chat about your cat, dog or even your lizard! Kidzworld pets forum is your place to chat about all your pets.
Wild Animals
Chat about your favorite wild animals and creatures in the Kidzworld Wild Animals forums.
Everything Animals
What is your favourite animal? Whether it's a wild animal or a domestic animal chat about every animal here.
Express Your Faith
Talk with others about your beliefs. Discuss your religion but no trashing other peoples religious views. Please be respectful.
what's going on?
Users currently active: 4
Welcome to our newest member:
cuteypie12
Forum stats:
Threads: 210,248, Posts: 5,068,467, Members: 2,668,701