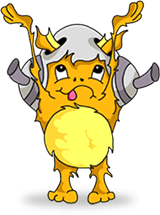 MONSTER LAB is set in an eerie, [kwlink]supernatural[/kwlink] world where the evil Baron Mharti rules the region with a cruel hand. The player takes on the role of an apprentice scientist who must perform a vast array of intricate experiments to create their very own monster from over 150 available monster parts. Taking control of your monster, the player can then [kwlink]explore[/kwlink] the land; searching for ingredients to make more monster parts, hunting out other monsters to defeat in combat and uncovering fun quests and challenges. The ultimate goal is to vanquish the evil Baron Mharti and liberate the villagers through mastering experiments, creating a powerful army of monsters and conquering all of the vast environments. Only then will the player rise through the ranks and become a [kwlink]scientist[/kwlink] worthy of defeating the Baron!
Can't wait to play the game? Check out Kidzworld's Monster Lab: Monster Generator!
Check out the Monster Lab Official Website: http://www.monsterlabthegame.com/us/
We've Got Pics!
Professor Fuseless Exclusive Profile
Professor Fuseless is a fearless and creative mechanic. He grew up in the [kwlink]countryside[/kwlink] where he was always inventing something new to show his friends, even if they would ultimately laugh at him. If you can get past his tendency to build doomsday devices, dangerous turbines and [kwlink]killer robot[/kwlink] after killer robot, it's easy to see that Professor Fuseless is the greatest mechanic the world has ever known.
Physically, Fuseless is short, hunched and disproportionately. As a result of an accident, he now has one very muscular arm, while the other arm is [kwlink]skinny[/kwlink]. His eyes are covered at all times by welding goggles he wears as protection from both glare and exploding experiments. In order to assist him in his work, he constructed an intelligent third arm that he wears on his back. The arm often shows a mind of its own, something that frustrates Fuseless to no end. When working he often keeps a near constant dialogue with the arm that sounds a great deal like the arguments of an old [kwlink]married couple[/kwlink].
Of the three scientists that make up the Alliance, Fuseless is the most sympathetic and [kwlink]easy-going[/kwlink], but he's no [kwlink]pushover[/kwlink]. His low, gruff voice and straightforward approach to conversation match what you'd expect to hear from an auto mechanic or an army sergeant. He is a hands-on kind of guy who is less concerned with [kwlink]theory[/kwlink] than the other scientists. Rather than spend a lot of time dreaming about what might happen, he prefers to jump in and start building. As a result, he tends to have more accidents than the other two, although his mistakes tend to be less dangerous in the grand scheme of things.
That's it for this exclusive character profile; keep checking back as we get closer to game launch and you never know what else you'll find!
Related Stories:
[kwlink]Monster Lab :: DS and Wii Game Preview[/kwlink]
[kwlink]Ben 10: Alien Force :: Game Preview[/kwlink]
[kwlink]Pony Luv :: DS Game Review[/kwlink]
[kwlink]Space Chimps Game Cheats[/kwlink]
[kwlink]Wii Virtual Console Game Downloads[/kwlink]