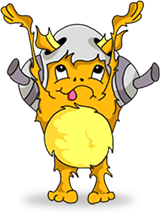 Get ready to bust a move and kick butt with Pac-Man on the PS2. Pac-Man World 2 brings all of Pac-Man's ghostly enemies to life on your Playstation 2 and it's up to you to deal with them. But now you have help!
Gary's made a list of all the cheat codes, tips & hints you need to bury those ghosts once and for all. Check these game cheats out and have fun!
Gameshark
The easiest way to bust this game wide open is if you have a handy-dandy Gameshark. A Gameshark is a lean, mean, cheatin' machine that lets you power up by entering the codes from the official Gameshark
Pac-Man World 2
Playstation 2
game cheats.
Gameshark Codes: