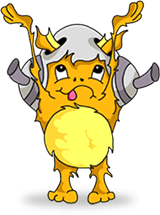 THUNDER AND THE HOUSE OF MAGIC is a whimsical animated family adventure, bringing to life a unique story with a great sense of humor, positive values and universal appeal.  Brimming with spectacular animation and endearing characters, this internationally acclaimed motion picture delivers a fun and captivating movie experience for the entire family.
Magic Show
Courtesy of Shout! Factory
Exclusive Clip: Welcome To The House Of Fun
The film tells the story of Thunder, an abandoned young cat who stumbles into a magical old mansion operated by a dazzling array of automatons and gizmos. Owned by a retired magician, the house is occupied by an assortment of his wacky assistants who don't all welcome the new houseguest. But when the magician lands in the hospital and his scheming nephew puts the mansion up for sale, our young hero and his new friends join forces to save their magical home.
Courtesy of Shout! Factory
Filled with laughter and adventure, THUNDER AND THE HOUSE OF MAGIC is a wonderful tale that you and your little ones will love.
Thunder And The House Of Magic Blu-ray
Courtesy of Shout! Factory
Now available on Blu-ray + DVD Exclusively at Walmart!